The Electric Toothbrush I Didn't Know I Needed
Have you ever tried an electric toothbrush? In the past I have tried one of the inexpensive ones you can buy at Target. It was a little better than just a standard toothbrush, but not so exciting that I ran right out to replace it with another electric toothbrush when it stopped working.
Earlier this year I actually had to have surgery on my gums, making my sensitive teeth feel even more sensitive. One thing I was surprised to learn is you can actually overbrush and hurt your gums with a standard toothbrush. (Ouch!)
Smile Brilliant offered to send me the cariPRO™ Ultrasonic Toothbrush to try. I had a great experience when I tried the Smile Brilliant whitening system and feel great about their brand, so I was intrigued to try it. As always, all opinions are my own, even though Smile Brilliant provided the toothbrush.
cariPRO Ultrasonic Toothbrush
So let's start out with the question that was on my mind – will the cariPRO™ Ultrasonic Toothbrush hurt my sensitive teeth and gums? The answer is no! In fact, it feels great.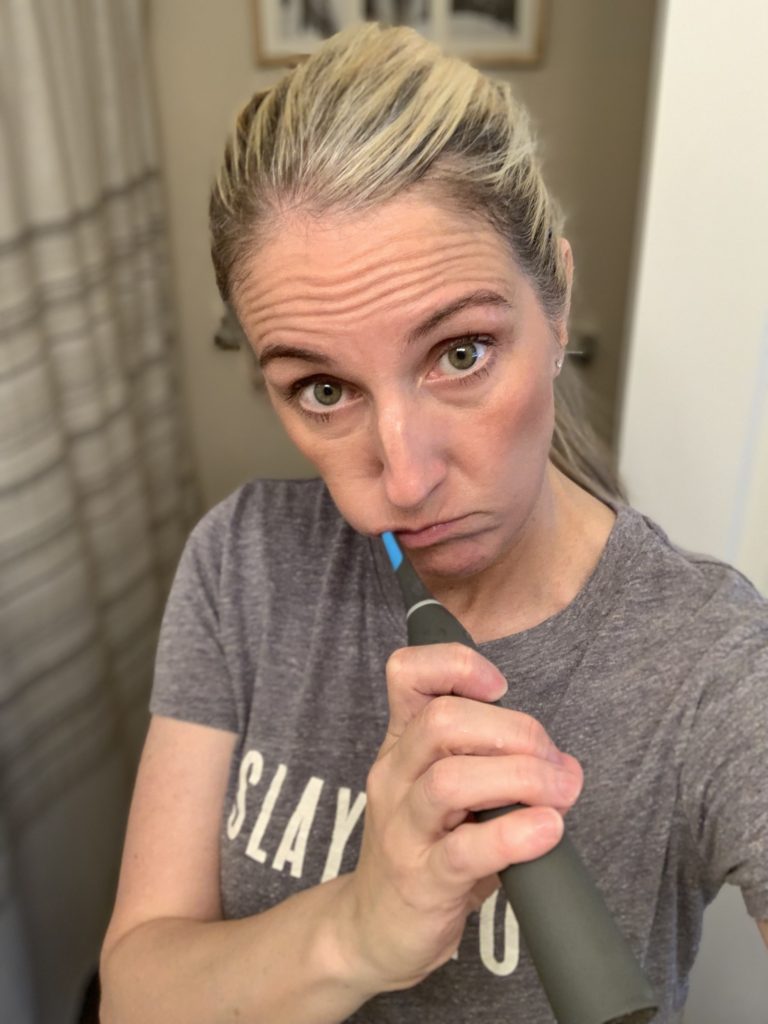 The cariPRO™ Ultrasonic Toothbrush has five settings:
Clean – the standard setting for cleaning
White – the most powerful of the settings, helps to remove surface stains, polish teeth, and deep clean
Massage – this setting has a pulsation mode that helps to stimulate your gums (you use it in conjunction with another setting)
Gum Care – this setting is specifically for gently cleaning at the gumline (you would use this setting in conjunction with another setting)
Sensitive – if the Clean mode is too aggressive for you, this gentle setting will be a good alternative
I've been mainly using the sensitive and massage settings. Not only am I noticing a huge difference in my teeth using the cariPRO™ Ultrasonic Toothbrush, my gums also feel great.
How does the cariPRO™ Ultrasonic Toothbrush work? You start by charging it – the charge lasts for 30 days, so you can take it on vacation with you without worrying about it dying – then you just turn it on, choose your setting and brush your teeth! It actually has a timer that helps you to brush for 2 minutes with four, 30-second bursts of power. This is a great way to make sure you are spending enough time on each part of your mouth without overbrushing.
I'm really enjoying the fresh, clean feeling from using the cariPRO™ Ultrasonic Toothbrush. And unlike those cheap drugstore brand toothbrushes, I feel good knowing that the cariPRO™ Ultrasonic Toothbrush comes with a two year warranty. This is a professional quality product, at an affordable price, but if you don't love it, they will take it back after 60 days. So you don't have anything to lose by trying it!
If you want to try the cariPRO™ Ultrasonic Toothbrush for yourself, you can find it at Smile Brilliant. 20% Off Coupon Code: blendstylestb20
Giveaway Link: https://www.smilebrilliant.com/gb/blendstyles
XOXO,
BLENDstyles